Leaving the house to run errands use to require very little prep work other than making sure I had my keys, phone and wallet. Now I have to make sure I have a mask and hand sanitizer along with my other essentials. In order to spend less time searching for everything I need I decided to create an area to keep everything organized and accessible.
Here's what I need to organize:
Masks for all family members
Hand Sanitizers, hand gels and sanitizing sprays
A place to hold lanyards and eye glass chains. We use eye glass chains and lanyards with clasps to hold the masks.
Non-Rinse Foaming Hand Soap and DIY portable hand soap
A UV Light Sanitizer for my keys and phone
The first thing I did was find a space that is easily accessible to everyone in the house. For our home that spot is in the kitchen with a counter space closest to the front door. The Center for Disease Control recommends that families not share masks so I started by buying bins to hold mask for each person in the house. I bought the bins in different colors and assigned each person a color. I also bought sandwich size plastic bags to store the masks. As an added precaution I used a pen to write the name of the person the mask belongs to on the outside of the sandwich bags. I was able to find bins and plastic sandwich bags at a dollar store which made this very inexpensive.
| | |
| --- | --- |
| | |
The next thing I focused on was placing all hand sanitizer, disinfecting sprays and portable soap in one spot. For this I went rummaging through the garage until I found a tray that could hold all these items. You can easily use a basket or a platter or even a decorative box. Whenever I leave the house and I know I will be gone for a while I carry a Non-Rinse Foaming Hand Soap as well as hand sanitizer. The reason I have so many different forms of sanitizer really comes down to individual preference. I like the spray hand sanitizer, my husband prefers the sanitizer gel and our son prefers the Non-Rinse Foaming Hand Soap. I buy the spray hand sanitizer and non-rinse foaming soap locally from Home Remedy Store Winter Haven but these items can be found at most retailers and online.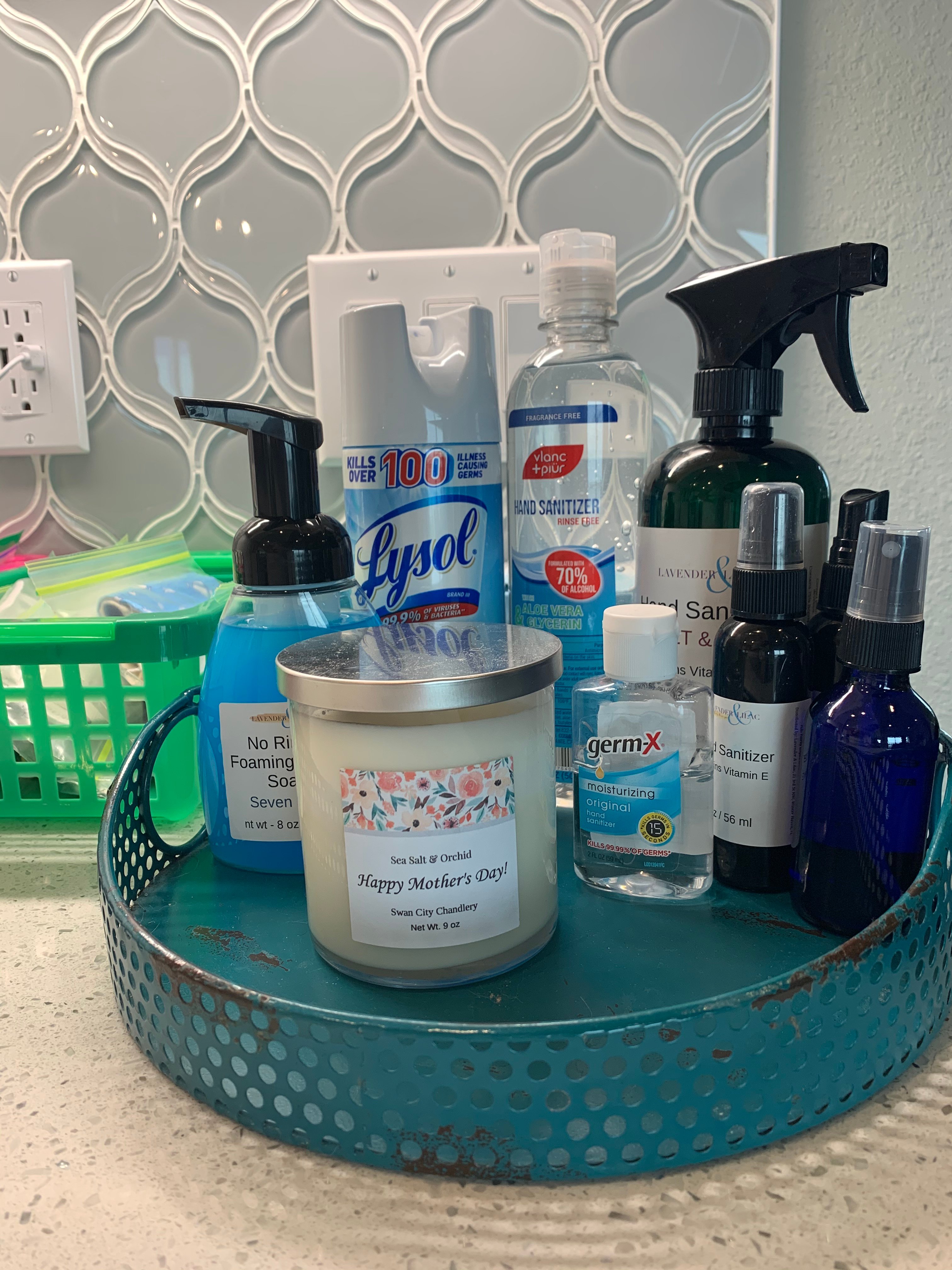 The last thing I needed to organize was the chains we use for our masks. I started using these as a way for my son to not lose his mask in the car and a way to ensure he had a mask every time we leave the house. I purchased lanyards and eye glass chains at various stores and added a clasp at the end. The clasp then goes on the elastic and the mask hangs around the neck when not being used. I purchased both clips and alligator clasp online and at craft stores. I used Loom bands to loop the clips/clasps onto the eye glass chains. The fancier chains were purchased from JF Boutique in Lakeland. I bought hooks that I attach to walls from the dollar store to hang the chains and lanyards.
| | |
| --- | --- |
| | |
Creating a designated spot for all these items makes it easier to gather what I need before heading out. It also helps my family keep tabs on items since when they return home everyone knows where items have to be placed. The good thing about this is that you can modify it to fit your families needs. You may only need a way to store and organize masks or a way to keep disinfecting sprays and hand sanitizers accessible. Make it your own and let us know what works for your family!