RaceTrac today announced the opening of a new convenience store in the Tampa, Fla. area, located at 699 W. Lumsden Rd in Brandon. Serving the needs of Brandon's more than 114,000 citizens that pass through the area daily, this new facility is situated near popular residential and retail centers, just a few miles from the intersection of I-75 and State Rd 60 and will provide everything needed to refuel and recharge.
"Florida continues to be a growing market for RaceTrac, where we strive to bring our Whatever Gets You Going style of convenience to communities like Brandon," said Justen Giambalvo, vice president of construction, engineering and special projects at RaceTrac. "I believe our clean facilities, friendly staff combined with a wide range of hot food, snack and beverage options will resonate well with guests."
As a grand opening special, RaceTrac is offering $1 on all roller grill items. Guests can enjoy $1 roller grill offerings starting on Monday, August 15 for a limited time at this new Brandon location only.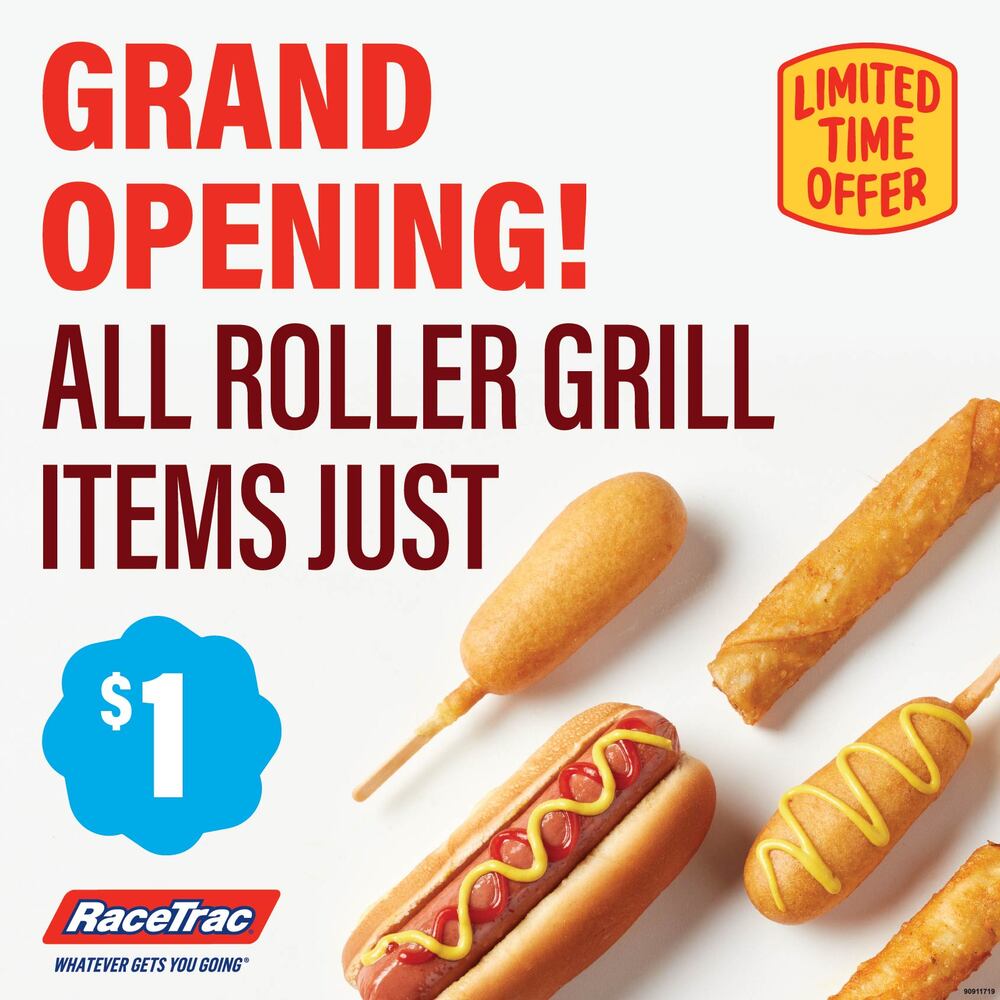 The newest location brings approximately 25 new jobs to the Brandon community. RaceTrac offers both full- and part-time team members access to medical, vision and dental benefits, as well as access to RaceTrac's 401(k) matching plan. Other benefits of working at RaceTrac include weekly paychecks, flexible scheduling, fun-loving and team-oriented culture, free coffee and fountain drinks, a discount on food items and referral bonuses. Eighty two percent of RaceTrac store leaders are internally promoted.
RaceTrac offers "A Career That Gets You Going and Keeps You Growing!" Applicants for full- and part-time positions are welcomed at RaceTrac.com/careers.
Inside, RaceTrac offers its wide selection of tasty, on-the-go food and beverage favorites that are affordable and always fresh. Guests can choose from a variety of options including:
* Grab & Go pizza and sandwiches made with hand-selected, high-quality ingredients.
* Whole and cut fruit and salads, all made and delivered fresh daily.
* RaceTrac's Swirl World frozen treat station with a variety of ice creams, yogurts and sorbets and up to 24 toppings that include a variety of chocolates, candies and fruits for added customization.
* Six blends of freshly ground, freshly brewed "Crazy Good Coffee" with popular creamers, sweeteners and toppings.
* Classic options that convenience store guests know and love, including:

Roller grill favorites like Nathan's Famous 100 percent Premium All Beef Hot Dogs.
Tornados, featuring battered and fried tortillas filled with meats, cheeses and delicious spices.
At each Florida RaceTrac location, guests can expect:
* A clean, well-lit parking lot.
* A chance to earn free items in-store through the RaceTrac Rewards program.
RaceTrac Rewards allows members to earn points in-store and at the pump with each purchase. Points can be redeemed for free food, drinks and even fuel!
The RaceTrac Rewards + Debit Card can save customers seven cents per gallon and earn them Rewards points in a single swipe when tied to their bank account.
Download the RaceTrac Rewards mobile app or visit RaceTrac.com/Rewards to learn more and sign up.
RaceTrac has been bringing this Whatever Gets You Going style of convenience to guests since 1934, and proudly operates under the mission of making people's lives simpler and more enjoyable. Whether it's a taquito for breakfast or frozen yogurt at 2 a.m., RaceTrac is a judgement-free zone. Its professional, friendly team members are here to welcome guests and ensure they have everything they need to refuel, recharge and get to their next destination.
Learn more about RaceTrac by visiting www.RaceTrac.com and stay connected on social via Facebook, Twitter and Instagram.
About RaceTrac
Headquartered in Atlanta, Georgia, family-owned RaceTrac has been serving guests since 1934 and now operates over 550 convenience store locations in Alabama, Georgia, Florida, Kentucky, Louisiana, Mississippi, Texas and Tennessee. While operating under its mission of making people's lives simpler and more enjoyable, RaceTrac stores offer guests an affordable one-stop-shop featuring a wide selection of food and beverage favorites, including Swirl World frozen desserts, freshly ground, freshly brewed coffee and competitively priced fuel. The company has been recognized by Forbes as one of America's largest private companies every year since 1998.